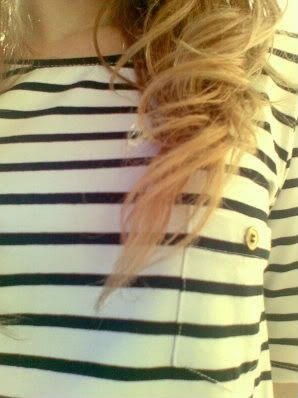 Aunque estemos de exámenes, nos merecemos un descanso, ¿no?
Así que me espera una semana movidita:
que si cumpleaños de una de mis mejores amigas (y una de las mejores personas que conozco)
con una consecuente sesión de bolera (o de copas, who knows),
mañanas de deporte con mi chico, escapaditas de tarde y noches de cine...
Y hoy os voy a dar otro consejo,
por si estáis en un momento de estrés máxim muy frecuente en estos días:
escuchad y cantad '
Sister Golden Hair
', de America;
os pondrá de un sorprendente buen humor.
Siempre va bien recuperar algun que otro clásico!;)
En la foto, un detalle del vestido marinero que por razones varias todavía no he estrenado.
En fin, ¡sed buenos!
Despite I'm doing examns those weeks, I think I deserve to have a rest
so that I've planned a lot of activities for this week:
birthday party, bowling session, going to the cinema,
doing some esport with my boyfriend and shopping with one of my girlies.


And now I'll give you and advice:
if you're stressed with examns, job, whatever you gotta do,
why don't you listen (and sing!) to America's Sister Golden Hair?
It'll make you feel better in 2''!


In the picture, a detail of the sailor dress
that's awaiting to an appropiate chance to wear it to!

Behave yourselves, guys!