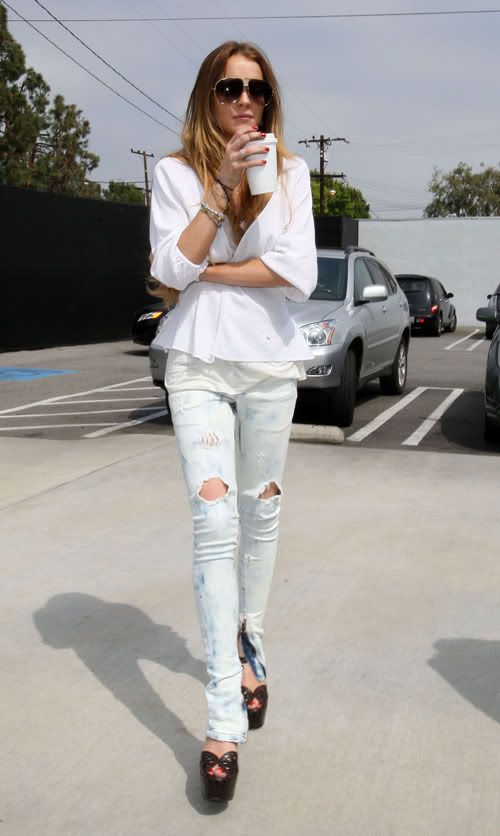 Gorgeus outfit, isn't it? Well, acid (and destroyed) jeans, simple white tee, sandal
s, red nails and... why not? A cup of coffee. I like it. But I'd rather love it if sandals were not that high. Dear Lindsay, I think you had to learn this: sometimes, the higher your shoes are, the less elegance you show. But if you like it... there is nothing more to say.
Have a nice day! I'm going to play (I guess I should say learn to play) football if it ever stops raining...
xo
Buen
look
, a que si?
Acid jeans
, camiseta blanca, sandalias, uñas rojas y... ¿porque no contar como parte del
look
el café? Me gusta. Pero me hubiera encantado si las sandalias no fueran tan altas. Querida Lindsay, creo que todavía debes aprender esto: a veces un tacón demasiado alto puede resultar desfavorecedor y muy poco elegante (en el sentido estricto de la palabra, aunque el
outfit
sea muy
casual
, como es el caso). Pero bueno, si te gusta no hay nada más que objetar.
¡Que tengáis un buen día! Yo iré a jugar a futbol (quizás debería decir que iré aprender a jugar en condiciones) si es que deja de llover...