Here you have the well-known LV rabbit ears, done by designer Marc Jacobs for Louis Vuitton.
Aren't they so cute?
Moreover, the collection is so complete: loads of different combination that I'm sure they will be source of inspiration for most of us. Black and grey mixed with pale colours vs acid red. Superlong-leggs boots vs ankle-tied sandals. Top+skirts vs dresses. And a long etc of versus. Enjoy it!
He aquí las famosas orejas de conejito diseñadas por Marc Jacobs para Louis Vuitton. Más allá de un accesorio de pasarela para embellecer los modelos, han sido usadas para portadas de revistas o outfits de
celebrities
. Sé que, como yo, no nos las pondríamos para ir a estudiar o trabajar, pero... verdad que son una monada?
Rabbit Ears
a parte, la colección es muy completa: mezclas de colores pastel con gris y negro dan eleganza y sobriedad a una colección que, sin estos dos últimos adjetivos, seguramente calificaríamos de "divertida", sin olvidarnos del rojo ácido. Botas altísimas vs sandalias atadas al tobillo, tops+faldas vs vestidos, encajes del siglo pasado vs tejidos metalizados del futuro y un largo etc de tendencias en una sola colección. Disfrutadala: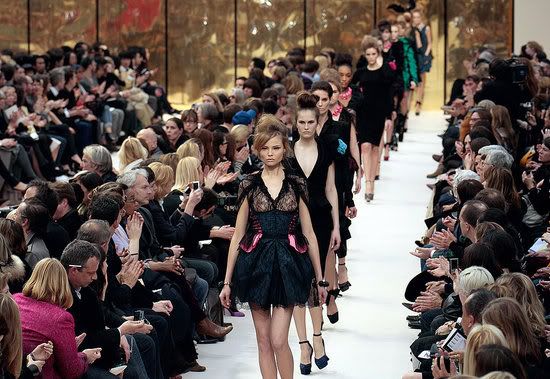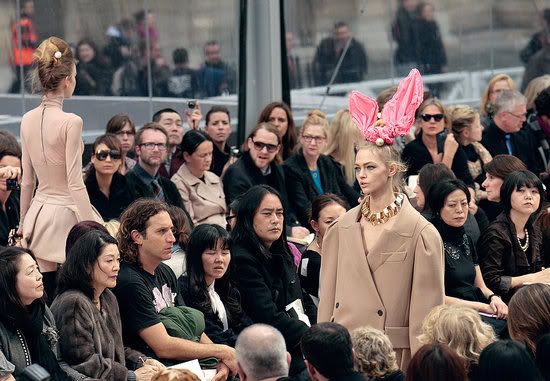 And in case you feel like seeing more about the LV f/w 09 collection...